Evaluate the environmental impact of digital technologies across organizations
+Reliable +Simple +Fast
For Digital Sustainability and CSR teams, a daily help thanks to an inter-organization working group, expert & updated resources under free licenses:
Evaluation methodology
Data repository
Calculation engine
Join Boavizta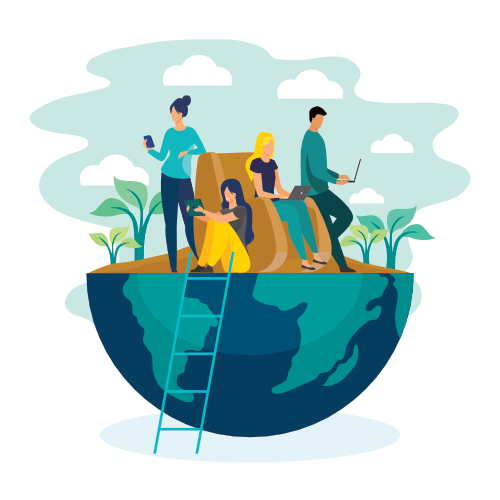 Environmental impact of digital technology: a need for (better) evaluation.
In 2020, the digital sector is responsible for 2.1 to 3.9% of global greenhouse gas emissions, and this share reach at least 6% by 2025. Other significant impacts exist: energy, water, biodiversity, natural resources.
"What is not measured, cannot be improved" Lord Kelvin.
For organizations, evaluating the environmental impact of all their digital components is the starting point for any effective reduction strategy.
But the latter often come up against several pitfalls:
Weak skills in LCA for goods and services

No global evaluation methodology

No environmental impact benchmark

No rapid assessment / accuracy management strategies

No monitoring over time

...etc.
New practices are needed to address these limitations.
A working group & resources under free licenses dedicated to the environmental impact evaluation.
Boavizta is an inter-organizational working group dedicated to evaluate the environmental impact of digital accross organizations.
The working group :
Works to improve and generalize evaluation in organizations

Federates and connects the actors of the "impact evaluation" ecosystem

Helps members in their development of skills and their projects

Promotes the collective actions of the group's members
The Boavizta working group produces expert & up-to-date resources under free licenses.
These "commons":
Take the form of studies, evaluation methodology, data repository, calculation engine, etc.

Cover infrastructures (datacenters, networks, terminals, cloud), digital services

Enable a full life cycle assessment & multi-criteria approach

Facilitate detailed impact analysis and decision making

Are based on the work of leading organizations: INR, ADEME, CNRS, Green IT, Shift Project, etc.

Are reviewed by recognized experts, and are regularly updated

Are available under free CC BY-SA 4.0 Attribution-Share Alike licenses
Participation in the Boavizta working group is free of charge, flexible and non-binding, but requires signing our charter.
Modest participation, daily benefits.
For the Digital Sustainability and CSR teams, participation in the Boavizta working group contributes to building an approach to evaluate the environmental impact of digital...
more quickly deployed, at a reduced cost thanks to open source resources already available, implementable in multiple contexts

more reliable, ahead of the market & regulations, thanks to collectively consolidated monitoring and resources, and regular feedback

more actionable & more efficient thanks to analyses allowing to better target high impact items in eco-optimization and eco-design processes

more agile thanks to peer-to-peer help between members
...to move towards a digital world that is more environmentally friendly, more efficient, less expensive - but also more flexible, more resilient, more attractive.